Now here is the end to this series of writing I hope you enjoyed reading them as much as I have enjoyed trying to remember all the beers and good times I shared with my parents over the past week.
Okay then the soppy stuff over with on to the hoppy goodness that concluded the liver killing week.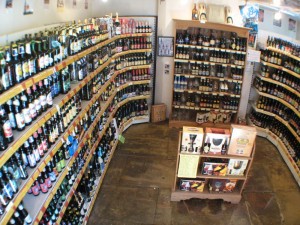 Ive saved this part of the story for this blog but I must have spent more time in the local beer shop this week than I have ever spent in there since Ive found out about it, the place in question is Beer Ritz in Headingley. Now then my Father and I visited this haven at the very least 3 times in the week that he was here and picked up some fantastic brews. Here are some examples I'm not going into tasting notes I'm just going to list some of the beer we decided on.
Buxton Axe Edge
Darkstar Expresso Stout
Magic Rock High Wire and Cannonball
Punk IPA, 5 Am Saint, and Hardcore
Wensleydale Porter
Hardknott InfraRed
St Peters Honey Porter
Robinsons Old Tom
Duvel
Schneider Weisee Hopfen-Weiss
Kernal Imperial Brown Stout and Export Stout
Gwynt y Ddraig Farmhouse Cloudy Scrumpy
Meantime IPA
Wychwood Hobgoblin
and just to top it off I think we bought a couple bottle of Jever and I'm sure I'm missing some.
Needless to say it was quite a week and many beer we drank and to be honest I wouldn't change any of it.
Friday came and it was sad seeing that my parents would be leaving on early Saturday morning but they got to see their granddaughter for the first time and it was all smiles. That afternoon we brought Lydia shopping and walked into to
wn for some last minute gift shopping. So one last trip to visit The North Bar which was enjoyable to say the least. It was Oktoberfest so we indulged a little bit on the wares they had on tap first up was a half or Sierra Nevada Oktoberfest which just wasn't my cup of tea I think I'm getting tired of all the hoopbla about Sierra Nevada because in the states they are just known as that fail safe if they have no other beer. Oktoberfest for me was quite boring and uninspiring so I needed to try a couple of more before we left. I tried the Paulander Oktoberfest it was quite pale but an easy drink and I bought my Mom a Paulander Salvator which she seemed to enjoy because for the first time in a week she finished her pint off faster than my Dad and I. I bought my father yet another pint of Black Band Porter by Kirkstall and like he said you can never have to much of a good thing. So we sat and sipped or gulped in my Mom's case and again watched the world go by wishing we had more time with each other but I wanted to show my dad one last good beer. My mom opted for some sort of cider that I didn't catch the name of but my dad and me opted for a bottle of aged Orval seeing that this was my first Orval I wanted to make it a good one. We once again got a great pour from Jim and got the sediment in a shot glass and put it to the side. After drinking half of the beer we dumped the shot into the glass and you can instantly tell the difference I prefer the sediment in the beer rather than out of the beer personal taste and thats the best thing about beer drinking everything is up to your personal taste. We said our thank yous to Matt and Jim at North and decided it was time to go home but we did have a quick stop off into Gerry's and checked out their beery offers and bought some bottle for one last back garden cigar. We picked up Adnams Broadside,Wadworth Swordfish, and Brewdog Trashy Blonde and 77 lager. So this was the end to our week and the end to a great vacation. I really hope you all enjoyed following me on my beer journey with the parents and hopefully I will see you in the pub.
The Final List. Some may be duplicates
Kirkstall 3 swords
Kirkstall Black Band Porter
Kirkstall Pale Ale
Brewdog Hardcore IPA
Brewdog 5 am saint
Brewdog Punk IPA
Brewdog Dark Tokyo Horizon
Brewdog Avery/Brown/Dredge
Brewdog Trashy Blonde
Brewdog 77 Lager
Magic Rock High Wire
Magic Rock Curious
Kernal Export Stout
Kernal Brown Stout
Temptest Brave New World
Beer Here Dark Hops
Stone Russian Imperial Stout
Gadds/revelations Cat Double IPA
Orkney Oyster Stout
Darkstar Espresso Stout
York Centurions Ghost
Dark Star Hophead
Schinder Weisse Tap 5
Paulander Salvador
Orval 1 year
Duvel
Ridgeside Single Hop
Copper Dragon Challenger
Hobgoblin
Guinness Foreign Extra Stout
St Petersburg Honey Porter
Brooklyn Lager
Leeds Brewery Pale
Leeds Brewery Best
Black Sheep Riggwelter
Jever
Adnams Broadside
Batemans XXXB
Batemans Old Perculiar
Wadworth Swordfish
Old Tom Old ale
Red Willow Smokeless
Red Willow Ageless
Red Willow Fathomless
Odell St Lupin
And again as I said above I'm sure that I'm missing out on some but when you drink that many in a week you might lose one or two.